Dharma Teachers of Spirit Rock Meditation Center
Ajahn Sucitto


As a monk, I bring a strong commitment, along with the renunciate flavor, to the classic Buddhist teachings. I play with ideas, with humor and a current way of expressing the teachings, but I don't dilute them.


Ajahn Sumedho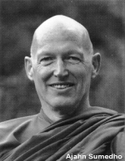 Ajahn Sumedho is a prominent figure in the Thai Forest Tradition. His teachings are very direct, practical, simple, and down to earth. In his talks and sermons he stresses the quality of immediate intuitive awareness and the integration of this kind of awareness into daily life. Like most teachers in the Forest Tradition, Ajahn Sumedho tends to avoid intellectual abstractions of the Buddhist teachings and focuses almost exclusively on their practical applications, that is, developing wisdom and compassion in daily life. His most consistent advice can be paraphrased as to see things the way that they actually are rather than the way that we want or don't want them to be ("Right now, it's like this..."). He is known for his engaging and witty communication style, in which he challenges his listeners to practice and see for themselves. Students have noted that he engages his hearers with an infectious sense of humor, suffused with much loving kindness, often weaving amusing anecdotes from his experiences as a monk into his talks on meditation practice and how to experience life ("Everything belongs").
Ajahn Thanasanti


Amma Thanasanti Bhikkhuni was born in California and first encountered the Dhamma in 1979. Since that time she has been committed to awakening. On a trip to Asia she met highly accomplished meditation masters Ajahn Chah, Ajahn Buddhadasa and Dipa Ma. In 1989, she went to England where she joined the nun's community in the Ajahn Chah Forest Tradition. After 20 years she left her monastic community to return to the USA where she founded Awakening Truth whose mission is eventually developing a Bhikkhuni training monastery integrating ancient teachings of the Forest Tradition into the modern world. Currently she is based at the Shakti Vihara hermitage near the Garden of the Gods in Colorado, where she uses wilderness as a daily part of her practice.
Ajahn Yatiko


Ajahn Yatiko was born and raised in Edmonton, Alberta, in 1968. He had a strong interest in religion from childhood and after a few years at university decided he needed to find a spiritual teacher, as opposed to an academic one. He was on his way to Tibet for ordination, but the plane stopped off in Bangkok on route. While having lunch in a Bangkok restaurant, a few Thai laymen sat down to join him and recommended he go to Wat Pah Nanachat, in Ubon. Owing to their high praise of Ajahn Chah, he decided to investigate. Shortly thereafter Ajahn Sumedho was visiting and Ajahn Yatiko was inspired to pursue monastic training at Wat Nanachat. He has been part of that community since 1992. He arrived at Abhayagiri in January, 2008.
Amma Thanasanti Bhikkhuni


Amma Thanasanti Bhikkhuni has been meditating for 35 years, 25 of which she has been an ordained Buddhist nun. In 2009, after 20 years in monasteries associated with the Ajahn Chah Forest Tradition, she returned to the US and founded Awakening Truth, an organization whose mission is to share essential teachings and strengthen the relationship between monastic and lay practitioners. Awakening Truth's eventual aim is to create a Bhikkhuni training monastery and modern Dhamma village. Amma skillfully blends the rigor of early Buddhist teachings with the gentle encouragement to discover one's own path.
Ayya Anandabodhi


Ayya Anandabodhi is co-founder of Aloka Vihara, a training monastery for women near Placerville, CA, where she currently resides. She has practiced meditation since 1989, and lived as part of the Ajahn Chah lineage at Amaravati and Chithurst monasteries for 18 years. In 2009 she moved to the US and took full bhikkhuni ordination in 2011.
Ayya Medhanandi Bhikkhuni


Ayyā Medhānandī Bhikkhunī, is the founder and guiding teacher of Sati Sārāņīya Hermitage, a forest monastery for women in the Theravāda tradition.


Ayya Santacitta


After being inspired by the presence & teachings of Ajahn Buddhadasa, i ordained 1993 at Amaravati Buddhist Monastery, UK. i co-founded Aloka Vihara Forest Monastery in the Sierra Foothills of California in 2009 and enjoy creating sanctuary close to nature, practicing in community and bringing wisdom traditions to the environmental movement.
Ayya Santussika


Ayya Santussika, in residence at Karuna Buddhist Vihara (Compassion Monastery), spent five years as an anagarika (eight-precept nun), then ordained as a samaneri (ten-precept nun) in 2010 and as a bhikkhuni (311 rules) in 2012 at Dharma Vijaya Buddhist Vihara in Los Angeles.