Dharma Teachers of Spirit Rock Meditation Center
Ajahn Sucitto


As a monk, I bring a strong commitment, along with the renunciate flavor, to the classic Buddhist teachings. I play with ideas, with humor and a current way of expressing the teachings, but I don't dilute them.


Ajahn Sumedho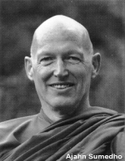 Ajahn Sumedho is a prominent figure in the Thai Forest Tradition. His teachings are very direct, practical, simple, and down to earth. In his talks and sermons he stresses the quality of immediate intuitive awareness and the integration of this kind of awareness into daily life. Like most teachers in the Forest Tradition, Ajahn Sumedho tends to avoid intellectual abstractions of the Buddhist teachings and focuses almost exclusively on their practical applications, that is, developing wisdom and compassion in daily life. His most consistent advice can be paraphrased as to see things the way that they actually are rather than the way that we want or don't want them to be ("Right now, it's like this..."). He is known for his engaging and witty communication style, in which he challenges his listeners to practice and see for themselves. Students have noted that he engages his hearers with an infectious sense of humor, suffused with much loving kindness, often weaving amusing anecdotes from his experiences as a monk into his talks on meditation practice and how to experience life ("Everything belongs").
Ajahn Sundara


Ajahn Sundarā was born in France in 1946. She studied dance in England and France. After working for a few years as a dancer and teacher of contemporary dance, she had the opportunity while living and studying in England to attend a talk and later a retreat led by Ajahn Sumedho. His teachings and experience of the monastic way of life in the Forest tradition impressed her deeply. Before long this led her to visit to Chithurst Monastery, where in 1979 she asked to join the monastic community as one of the first four women novices. In 1983 she received ordination as a sīladhāra, with Ajahn Sumedho as her preceptor. After spending five years at Chithurst Monastery she went to live at Amaravati Monastery, where she took part in establishing the nuns' community.


Ajahn Yatiko


Ajahn Yatiko was born and raised in Edmonton, Alberta, in 1968. He had a strong interest in religion from childhood and after a few years at university decided he needed to find a spiritual teacher, as opposed to an academic one. He was on his way to Tibet for ordination, but the plane stopped off in Bangkok on route. While having lunch in a Bangkok restaurant, a few Thai laymen sat down to join him and recommended he go to Wat Pah Nanachat, in Ubon. Owing to their high praise of Ajahn Chah, he decided to investigate. Shortly thereafter Ajahn Sumedho was visiting and Ajahn Yatiko was inspired to pursue monastic training at Wat Nanachat. He has been part of that community since 1992. He arrived at Abhayagiri in January, 2008.
Ayya Anandabodhi


Ayya Anandabodhi first encountered the Buddha's teachings in her early teens, igniting a deep interest in the Buddha's Path of Awakening. She lived and trained as a nun in the Forest Tradition at Amaravati and Chithurst monasteries in England from 1992 until 2009, when she moved to the US to help establish Aloka Vihara, a training monastery for women, where she now resides.


Ayya Dhammadīpā


I aspire to offer teachings that are encouraging, that support people to discover how they are an expression of Dhamma. I'm particularly interested in the interplay between stilling and settling the mind, and opening to greater kindness and generosity of heart.
Ayya Jitindriya


Ayya Jitindriyā first trained as a monastic in the lineage of Ajahn Chah & Ajahn Sumedho for over 16 years, from 1988-2004. After leaving the monastic order she gained a Master's degree in Buddhist Psychotherapy Practice with the Karuna Institute in the UK. Returning to live in Australia (her place of birth) in 2008, she practiced as a Buddhist psychotherapist and taught meditation, Buddhism and psychotherapy in various capacities. She was the Director of Training for AABCAP (Australian Association of Buddhist Counsellors and Psychotherapists) for several years. In early 2018 Jitindriyā re-entered the monastic life at Santi Forest Monastery in NSW and held the role of guiding teacher and Spiritual Director there for a time. In 2021 she helped to set up Viveka Hermitage in Southern NSW where she now resides.
Ayya Medhanandi


Ayyā Medhānandī Bhikkhunī, is the founder and guiding teacher of Sati Sārāņīya Hermitage, a Canadian forest monastery for women in the Theravāda tradition. The daughter of Eastern European refugees who emigrated to Montreal after World War II, she began a spiritual quest in childhood that led her to India, Burma, England, New Zealand, Malaysia, Taiwan, and finally, back to Canada.


Ayya Santacitta


Santacitta Bhikkhuni hails from Austria and trained as a nun in England & Asia from 1993 until 2009, primarily in the lineage of Ajahn Chah. Since 2002, she has also received teachings in the lineage of Dilgo Khyentse Rinpoche. She is committed to our planet as a living being and resides at 'Aloka Earth Room', currently located in San Rafael, California. Santacitta Bhikkhuni stammt aus Österreich and begann ihre Nonnenausbildung 1993 in England & Asien, vor allem in der Traditionslinie von Ajahn Chah. Seit 2002 empfängt sie auch Unterweisungen in der Traditionslinie von Dilgo Khyentse Rinpoche. Sie ist unserem Planeten als lebendes Wesen verpflichtet und lebt im 'Aloka Earth Room' in San Rafael, Kalifornien.